Features
As a portable hand held auto refractometer, as well as the children auto refractometer, vision screener V100 can meet the detection of different age groups, and make the examination process more simple and convenient. Find a vision screener that satisfies your must-haves.
◉ Wireless data transfer by wifi
◉ Quickly deliver testing results in 1 second
◉ Interesting sounds to attract children
◉ Automated screening provides thorough, objective, and easyto-understand results
◉ Super user-friendly with minimal user
◉ training required
◉ Flip screen facilitate convenient vision measuring
◉ Capable of dealing with mass screening events
Quick Detection
• Myopia (nearsightedness)
• Anisometropia (unequal refractive power)
• Hyperopia (farsightedness)
• Strabismus (eye misalignment)
• Astigmatism (blurred vision)
• Anisocoria (unequal pupil size)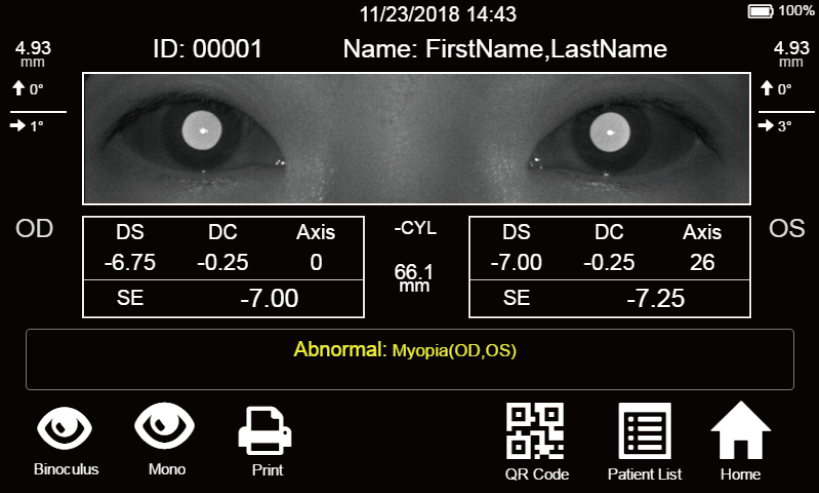 Patient Management Software
This is the patient management system to help clinicians manage patient records and images and data collected by devices developed by our company. The testing result delivered by V100 can be quickly transferred via a wifi connection.

Print Report Example
Clinicians can connect WiFi and Bluetooth to print out the test results after using the vision screening machine to detect the eye conditions of patients. Easy to operate, instant printing.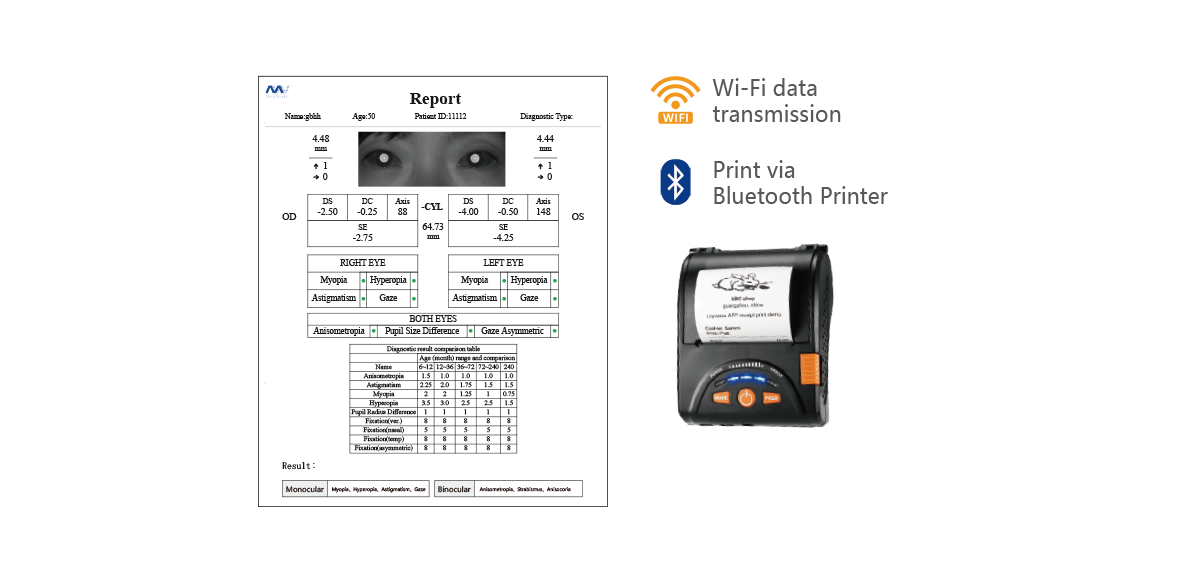 | | |
| --- | --- |
| Measuring Mode | Binocular/Monocular |
| Measuring Time | 1s |
| Automated Distance Sensing | 100cm±5cm |
| SPH | Range:-9D~+7D |
| | Resolution:0.25D/0.01D |
| | Accuracy:±0.5D |
| CYL | Range:0D~3D |
| | Resolution:0.25D/0.01D |
| | Accuracy:±0.5D |
| Axis | Range:0~180° |
| | Resolution:1° |
| | Accuracy:±5° |
| Pupil Size | Range:4.0~9.0mm |
| | Accuracy:±0.1mm |
| Pupil Distance | Range:30~80mm |
| | Accuracy:±1mm |
| Fixation Target | Sound and flashing light |
| Working Time | 5 hours |
| Data Transfer | WIFI |
| Screen | 4.3" full LCD touch screen |
| Charging Port | USB |
| Power Supply | 18650 Li-lion battery×2 , Voltage:3.7V , Current≥ 3400mAh |
| Targeted Patient | from 6-months infant to adults |
| Weight | 800g |
| Power Adaptor | Power Supply:~100-240V,50/60Hz,35VA Output:5V,2A |