Bluetooth wireless communication, provide freedom of movement.
Simple operation interface, integrate abundant information.
Support data transmission with external devices such as auto refractometer/ chart monitor etc.
Specifications:
Sphere
-19.00~+16.75D (0.25D/0.50D/1.00D/3.00D steps)
Cylinder
-8.75.00D~+8.75D 0.25D steps
Axis angle
0~180° 1°/5°steps
Pupillary Distance
Distant range: 52~80mm 0.5/1mm steps
Rotary Prism
0~20△ (0.1 △/0.5△ )
Cross Cylinder Lens
±0.25D
Plane Retinoscope
+1.50D(67cm) +2.00D(50cm)
Auxiliary Lens
PH Binoculus(¢=1.0mm)
RMV/RMH
RL(Right eye)、GL(Left eye)
Polaroid(Right eye 135°/45°, Left eye 45°/135°)
Prism(Right 3△BU,6△BU) , (Left 3△BD, 10△BI))
Cross Cylinder Lens (±0.50D Axis=90°)
PD Lens
CV head Size
381mm×286mm×111mm   3.8 kg
Tablet Size
243mm×171m×7mm   0.5kg
Power Supply
AC 220V 50HZ or AC 110V 60HZ,90W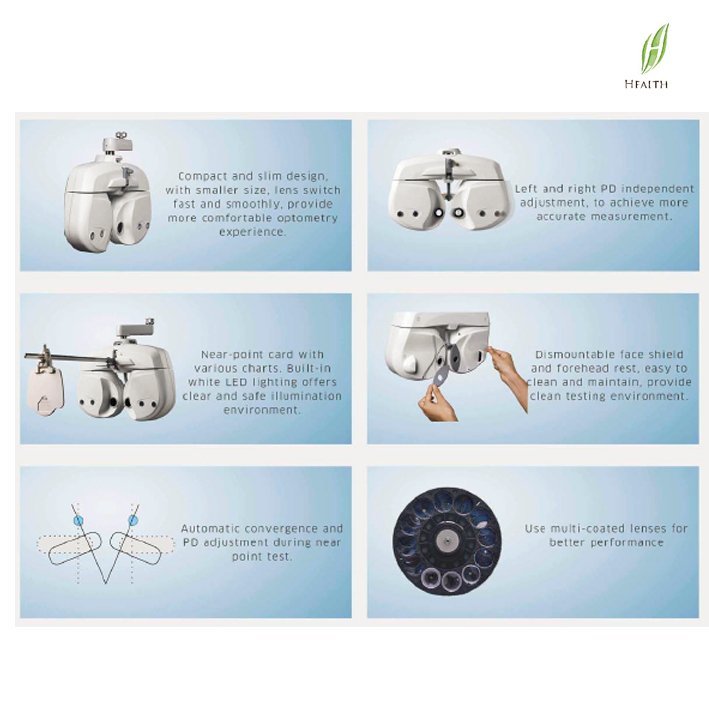 Powerful and simple operation interface, provide accurate and smooth operation experience. Preset standard optometry procedure, provide accurate optometry guidance, and allow customizing the optometry procedure. Bulit-in clinet files management funciton, easy to retrieve client file.